Results on ethical and social implications
The consideration of ethical and social influences and implications is the basis of a user-centered design of new applications based on innovative technologies. Taking these into account can support the success of innovations. In addition, the social benefit can be increased and negative effects of new technologies can be reduced.
Workshops with MEESTAR methodology
Our project partner YOUSE GmbH, which specializes in the identification of ethical and social implications, conducted several workshops to broaden the perspective on ethical and social implications. Together with representatives of our research partners as well as our associated partners from the cultural fields, interactive workshops were held using the MEESTAR methodology. MEESTAR represents a participatory process in which participants interactively share their values, moral beliefs, practical knowledge, expectations, and fears, and work together to develop solutions that inform the rest of the development process. The basis for evaluating technology are moral dimensions such as: self-determination, security, justice, privacy, etc. These are then considered from three perspectives: individual, organizational and societal. The goal is to derive challenges, which are subsequently classified into three levels from ethically unobjectionable to critical. For concretization, we used the perspectives of the various interest groups and stakeholders, such as the audience, the organizers, the artists, and so on. In this way, we were able to identify 145 relevant challenges. 61 of these challenges were rated as critical to the success of virtual cultural events at the individual, organizational, and societal levels. To ensure usability, the challenges were grouped into seven ethical and social dimensions, and representative challenges were selected for exemplary illustration. We will use the challenges as the basis for application and technology design.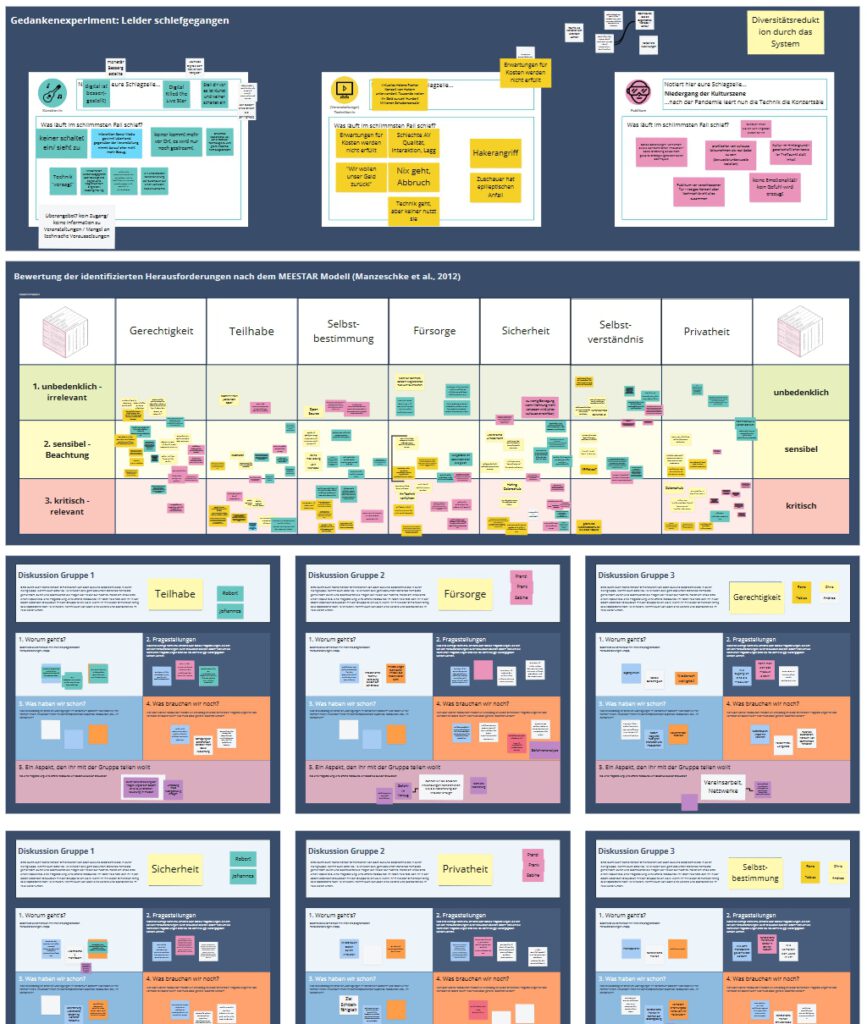 The interactive board shows intermediate results in the different stages of the MEESTAR method
Ethical and social dimensions
The system shall incorporate the most diverse images of the human being possible and respect the limits of the individual.
The system should support participation in cultural life and thus, integration into the social fabric.
The use of the system shall be safe for all user groups, both during normal use and in the event of potential errors and failures.
The system should help users to act independently. The voluntary nature of use must be ensured.
The providers of the system shall act responsibly; assistive technologies shall always be used for the benefit of the users and the preservation of their dignity.
Access to the system should be free of discrimination. Standardization is to be avoided.
The system should not negatively affect the personal lives of users. Personal data must be treated confidentially and protected from misuse; the principle of data economy applies.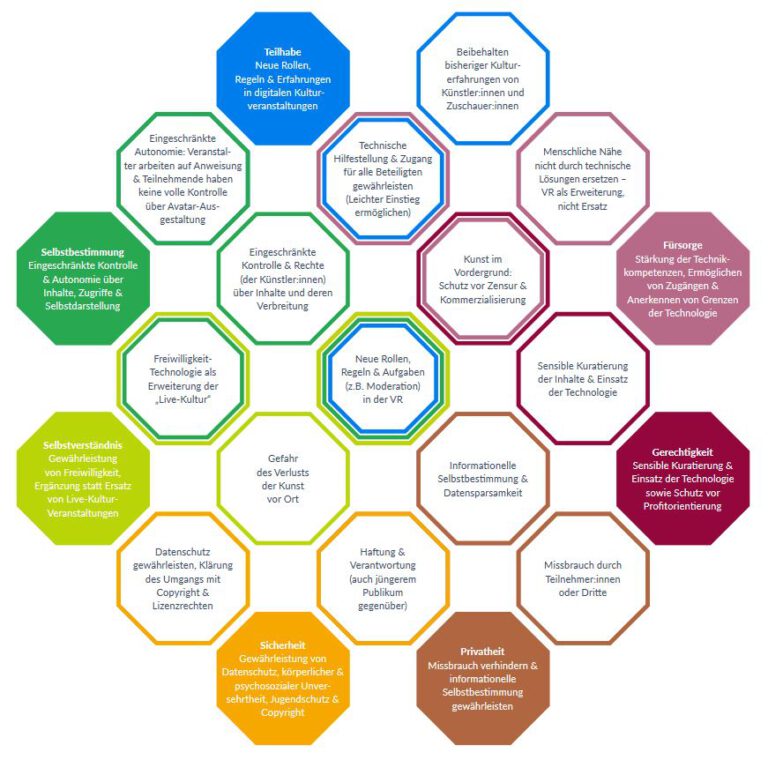 Representative ethical and social challenges based on seven dimensions