Presse Release: SocialSTAGE-VR Presented Demonstrator for Virtual Theater and Concert Experiences in Switzerland
Future technologies for broadcasting in focus: Project "SocialSTAGE-VR" participated with keynote lecture at the Production Technology Seminar PTS of the European Broadcasting Union in Geneva on January 26, 2023
The "SocialSTAGE-VR" research and development network led by the Chemnitz University of Technology is developing technologies for transmitting theater performances, concerts, or other stage events into virtual spaces and thus enabling them to be experienced from anywhere in the world using virtual reality glasses. Partial results and a first technology demonstrator have now been presented in a keynote speech at the invitation of the European Broadcasting Union (EBU) at the Production Technology Seminar 2023 in Geneva.
With 112 member organizations in 56 countries, the European Broadcasting Union (EBU) is the world's leading alliance of public service media. With nearly 2,000 television, radio and online channels and services, its members together reach more than one billion people worldwide. The EBU's annual Production Technology Seminar is one of the most important industry events for current and future developments in media production technology. In 2023, the focus was on technologies and trends that are redefining the nature and quality of modern media experiences.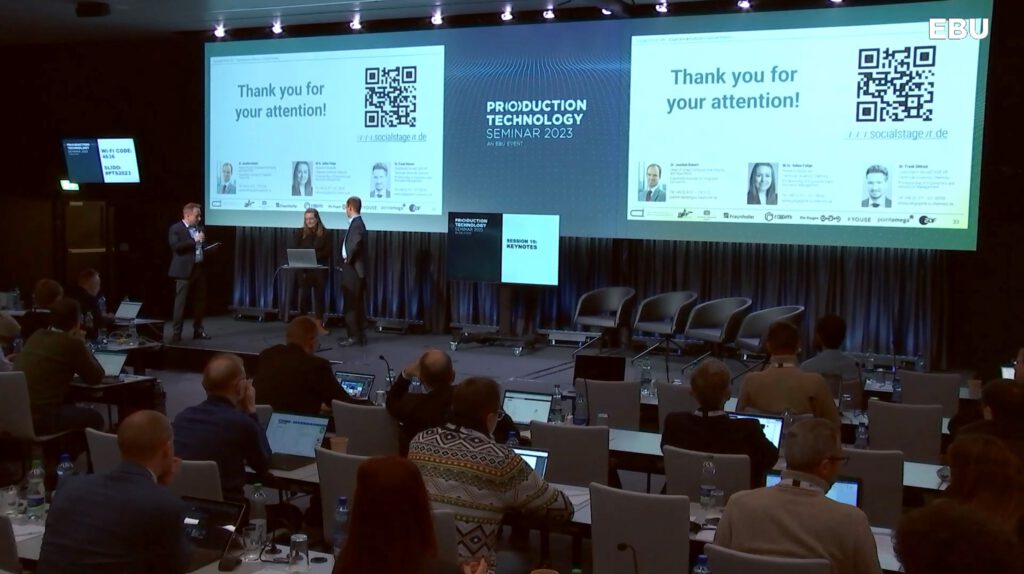 Selina Palige from the Chair of Work Science and Innovation Management at gives an insight into the research and development results of SocialSTAGE-VR. Screenshot: Project "SocialSTAGE-VR" (EBU Poduction Technology Seminar 2023)
Technology with potential to expand forms of cultural and social participation
In their keynote, Selina Palige from the Chemnitz University of Technology and Joachim Keinert from the Fraunhofer Institute for Integrated Circuits gave an insight into the potential of virtual immersive technologies for new forms of cultural and social participation. VR glasses, whose development is advancing rapidly, and which are increasingly being used by end consumers, can be used to virtually attend events taking place at another location from the comfort of one's sofa at home. By means of embedded avatars, i.e. digital human images, as well as communication and interaction technologies, these experiences can be shared together in VR with others who are also geographically distant – much like a real-life visit to a theater or concert.
"This spatial and social sense of presence that is created is not offered by conventional media and communication technologies," reports Dr. Frank Dittrich, project initiator and coordinator. Two-dimensional screens, such as TV sets or mobile devices, only allow passive viewing from "outside." "The fact that media content can be experienced together with others who are also geographically distant, as if you were there and with others, has the potential to fundamentally change media consumption," Dittrich continues.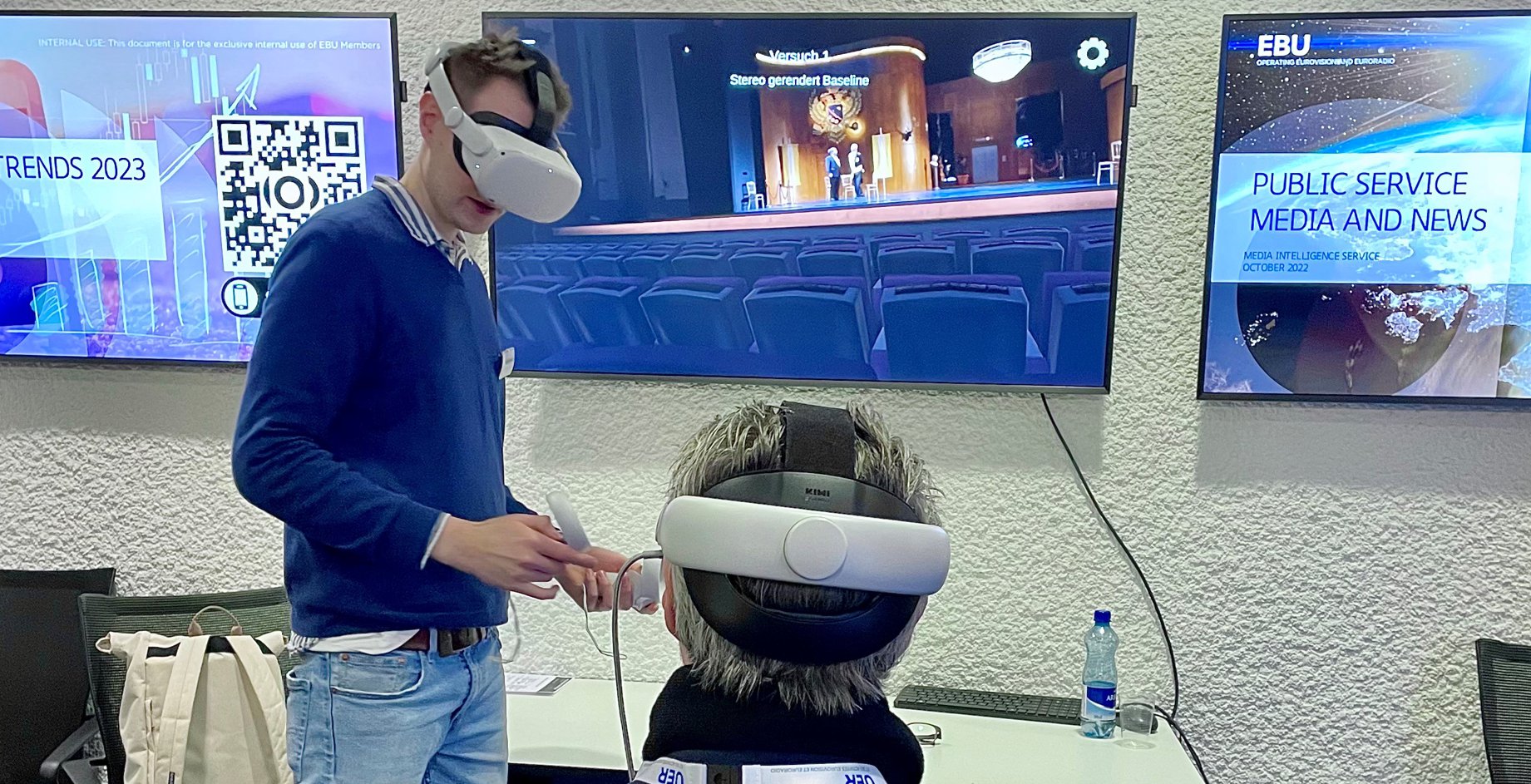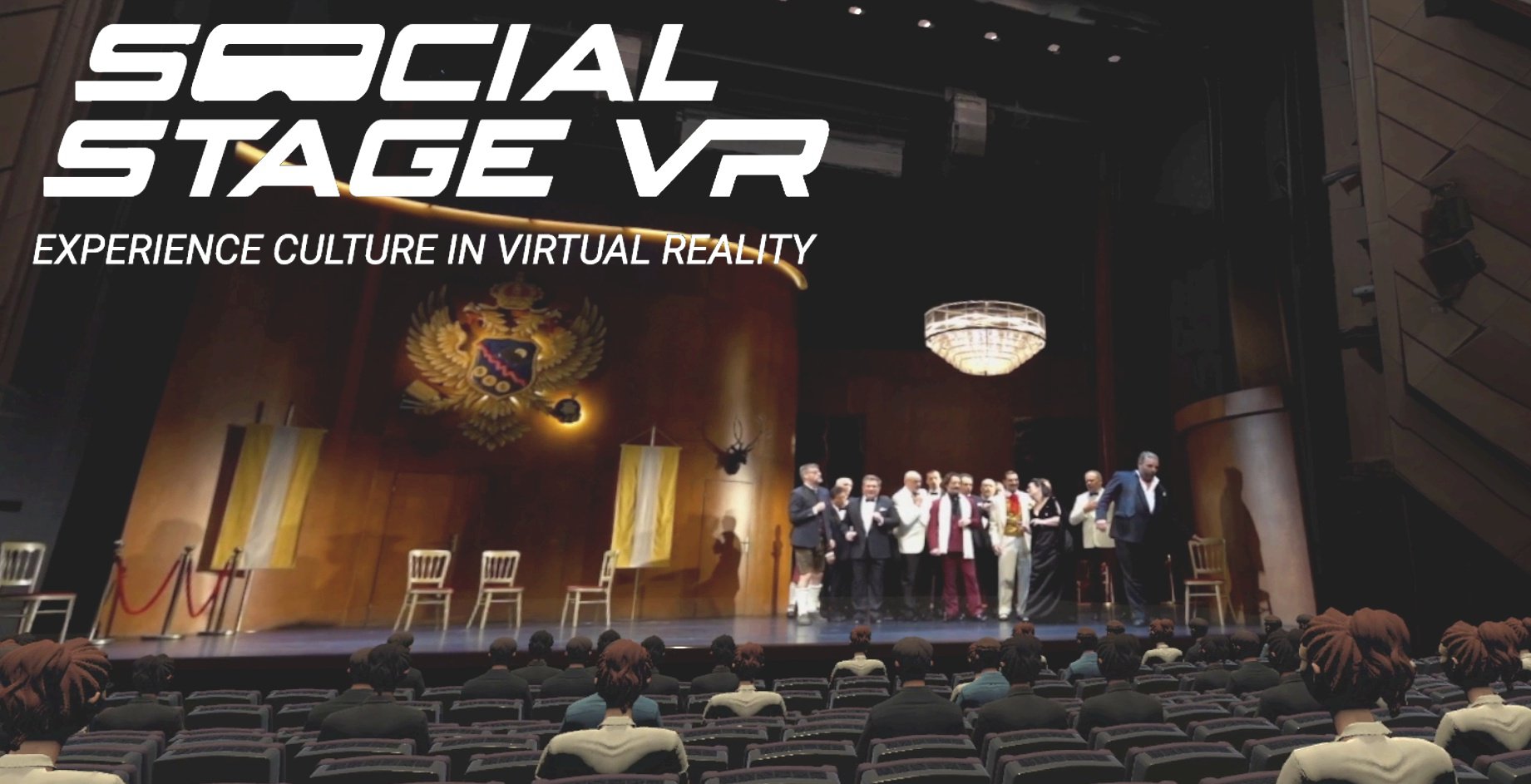 Hendrik Hawer from Die Etagen GmbH presents the demonstrator to the participants
Demonstrator presented to the public for the first time shows solutions for overcoming technical hurdles
The transfer of this potential into practice is still a challenge for broadcasters. In their keynote address at the seminar in Geneva, the researchers showed concrete solution paths that are being worked on in the project. Initial results were shown on site by their project partners Die Etagen GmbH using a prototype application, which was presented to the public for the first time. Using VR glasses, participants were able to meet in the virtual Chemnitz Opera House, which is currently being used as a test scenario. Stage recordings of a dress rehearsal of the current stage play "The Merry Widow" were shown, which were recorded with different camera systems and showed different levels of experience of immersive media. Project partners entered the virtual venue as well and guided the visitors through the virtual theater experience and its technical implementations. In the future, not only the social experience will take place in real time, but also the stage plays themselves will be transmitted live from the theater into the virtual space.
Background: "SocialSTAGE-VR" project
The research and development project "SocialSTAGE-VR" has been funded by the German Federal Ministry of Education and Research for a total of 1.85 million euros for three years since September 2021. In addition to the TU Chemnitz (Professorship of Industrial Engineering and Innovation Management, Prof. Dr. Bullinger-Hoffmann, and Professorship of Production Systems and Processes, Prof. Dr. Martin Dix), other research institutions and companies such as the Fraunhofer Institute for Integrated Circuits IIS from Erlangen, Die Etagen GmbH from Osnabrück, YOUSE GmbH from Berlin, rooom AG from Jena, and point omega AG from Heidelberg are involved in the project. In addition to theater performances, the project also has its sights set on other live entertainment formats in the area of stage performances and TV formats. The researchers are supported by other associated partners such as ZDF and the Berlin pop group MIA. In addition, there is a close exchange with actors of the European Capital of Culture Chemnitz 2025. Interested parties from the fields of culture and media are welcome to contact the network and enter into an associated partnership. For example, regular information events are planned during the project period at which project results will be presented and discussed with the cultural and media sector.