Super Powers - extending capabilities through virtual reality
Virtual reality makes it possible to overcome physical boundaries and to completely rethink space and interaction. For virtual applications, this opens up completely new possibilities for creating experiences that would never be possible in reality. A method developed by the Experience and Interaction Design workgroup at the University of Siegen supports the brainstorming of design concepts.
SuperPowers - a method to overcome thinking boundaries
Many virtual reality applications make it their goal to copy real environments, interactions or tasks. This leads to similar experiences as we know them, especially since virtual reality cannot match the real experience at the current state of technology. However, virtual reality also allows us to do and experience things that are not possible in reality. The possibilities are almost unlimited and even override physical limits. Among other things, users' abilities can be expanded (physical, cognitive and perceptual). So you can fly in virtual reality, you can lift a virtual house, or you can adjust how you hear or see. Since we primarily draw on our wealth of experience when developing ideas, it is difficult for us to find completely new approaches. As a result, even in the area of developing virtual applications, they are often based on existing real-world approaches. The difficulty, therefore, lies in expanding our imagination. The department Experience and Interaction Design at the University of Applied Sciences Siegen has developed an associative creativity technique for this purpose [1]. The SuperPowers provide heuristics for extending abilities in virtual reality. For the categories "expanded ego," "expanded world," "expanded action," "expanded perception," and "expanded thinking," the researchers offer 15 heuristics for expanding one's own creativity. Related to concrete application contexts, these can stimulate innovative ideas to make virtual applications more interesting.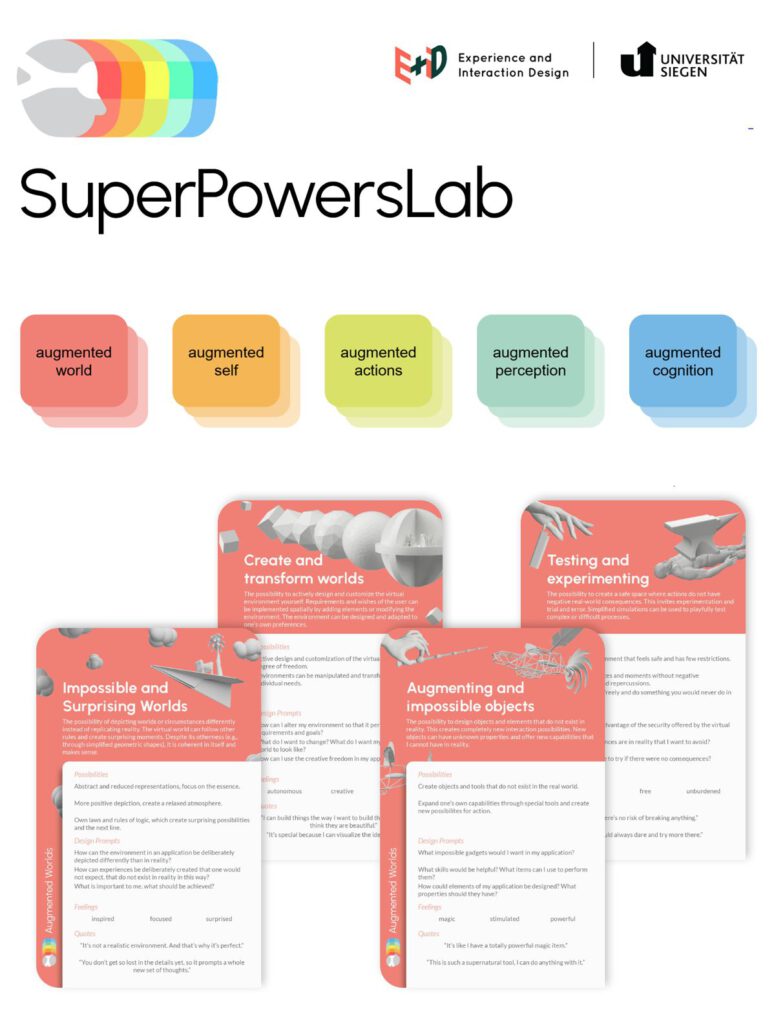 The SuperPower heuristics are available in the form of cards with explanations and examples
Excerpt from the tool mirow from one of our workshops, showing some ideas that were documented in the form of fact sheets
We have already benefited several times from the SuperPowers method of the University of Siegen. In online workshops, we have already conducted five SuperPowers workshops on the topic of virtual live events. We have involved artists from the fields of music and concert as well as theater. We have also conducted workshops with end users. The different perspectives on how artists and viewers would use the unlimited possibilities of virtual reality to create unique experiences were amazing. The idea space that emerged was incredibly large and included experiencing the events from a variety of real and surreal perspectives, the control of show elements by the audience themselves, experiencing one's own embodiment through other real and surreal identities, the inclusion of distant environments or those that are physically impossible to enter, interactive information such as live lyrics, and and and… The results help us to expand real live shows in virtual reality with entirely new interaction and experience formats.
[1] Shadan Sadeghian and Marc Hassenzahl. 2021. From Limitations to "Superpowers": A Design Approach to Better Focus on the Possibilities of Virtual Reality to Augment Human Capabilities. In Designing Interactive Systems Conference 2021 (DIS '21). Association for Computing Machinery, New York, NY, USA, 180–189. https://doi.org/10.1145/3461778.3462111